L.E. "Orla"
The Irish Naval vessel ORLA is twinned with the town of Kinsale, which is a source of pride to all. The ship is of the Royal Navy "Peacock" class and two models were bought from the Navy in Hong Kong.

They are very fast twin engined ships used mainly in the inshore areas. However, when manoeuvering in harbour ships these ships use an electro-hydraulic driven engine for low speeds. The power of the main engines does not allow such delicacy even at idle speeds. Interestingly the "harbour manoeuvering" engine is retracted into the hull when the main engines are in use in order to reduce drag.
The ship, and her sisters, regularly visit Kinsale. In these pictures she is seen during her visit at Kinsale's annual regatta in 2001. Quite often too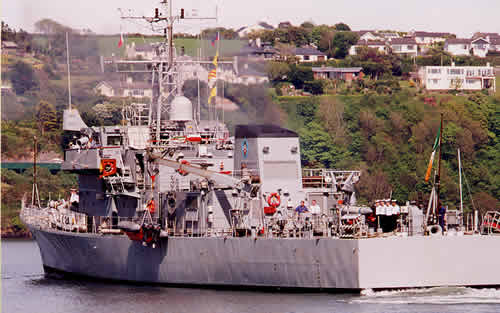 Irish Naval Service ships can be seen sheltering in Middle Cove during storms or training operations.
More details will be added to this section shortly so please call back and check this again.