Model Boats
Well, Wintertime gives Angling Charter skippers some time and at Kinsale Angling this is no exception. Ship model-making is an aside that I am involved in mainly around this time. Occasional commissions are welcomed. However, as a general rule however, we'd like these to be of of Irish interest or have an Irish connection.
Also, models of the "Cutty Sark" and the "L.E.Orla"* are on the blocks. A model of the Dutch East Indiaman "Den Ary" is completing restoration. A model of the "L.E. Deirdre" is due for restoration - coincidental to it's namesakes decommissioning from the Irish Navy. Completed models include such sailing ships and fishing ships as "Pride of Baltimore", "La Toulonaise" and the "Belle Poule".

Worthy of mention is the model "Herzogin Cecilie" rescued from the Imperial Hotel, Cork during renovations. This 4 masted, steel barque built in 1902 in Bremerhaven can be seen in the photographic records in Alan John Villiers (1903-'82) book "The Last of the Wind Ships" from the 20s and 30s. This ship's complete saloon and figurehead are on display at the Åland maritime museum, Mariehamn, Finland. This model is in need a lot of work. If you enjoy books on windjammers and their ilk, you would do well to find any of Filler's many books or his autobiography "The Set of Sails".
We are interested in sharing ideas and notes with fellow like-minded modellers and displaying whatever progress is made to any modelling enthuasiasts. This section will be added to over the coming months if an interest is expressed by you!
*Note: "L.E." is short for the Gaelic Long Eireannach or Irish [naval] ship.
"Den Ary"
under restoration.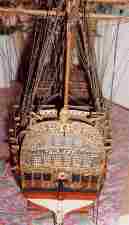 Designed for the protection of the East India trade and also having some cargo capacity this ship was built in 1725.
The model has had its masts re-stepped and a large percentage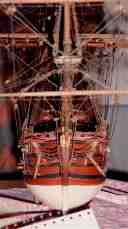 of rigging replaced. Topgallant masts had to be replaced due to breakages. The guns (of holly) have been removed and restored or had new ones carved to take their place. The last main piece is the missing rudder. A drawing is needed so that an accurate scale rudder can be made. Any help here would be gratefully received. The ships boats also need to be fabricated. No paint was touched up and the model was left in it's faded original condition as much as possible.
The model's carvings are really excellent. The unknown original modeller used plank-on-frame, not plank-on-bulkhead. Progressing slowly, it is probably the highlight of this small model collection.
"James Monroe"
proposed 116 gun ship of the line.

This is the original shipbuilder's model of a proposed design. It is of a 116 gun ship of the line and dates to about 1800 to 1815. It is presumably named after the 5th president of the United States, James Monroe (1817-1825). He was a forceful activist for the elimination of the European Slave traders and the hunting

down of their ships and served two terms in office. He is the author of the Monroe doctrine - basically that Latin America be left alone, free and independent, and not to be considered as subjects for future colonization by any European or Russian Power."
The model needed attention to some broken ribs, and repair to the starboard quarter gallery. The

rudder was remounted and missing and broken hinges replaced. The paintwork is the original and is both worn and stained. Cleaning will be done but no touching up of the dulled paintwork is considered by the owner.
The model is independently dated to somewhere in the period 1800 - 1815, putting it squarely in Monroe's term as president. Steven Speilberg's Amistad movie covers actual and typical events which occurred in this time and also showed the slave

traders' use of fast Baltimore style clippers - which gives some indication of why a slow design such as this was not chosen to counter the slave traders. However, the design could have been aimed as a counter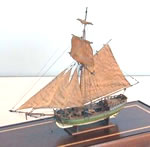 to the British Navy's First Rate ships or as a means of enforcing the Monroe policy.
As things happen, a model of the ship "Experiment" also arrived for cleaning and repair to damaged sails. A gaff-rigged cutter, the original was the ship used to tranport slaves from the Amistad to New Haven, Connecticut for trial. As movie-goers will know, these slaves were defended by ex-president (6th) John Quincey Adams, ( son of John Adams - another ex-president of the U.S., and another link in this story).
Addendum: July-04: (From Mr. Randle Biddle, This email address is being protected from spambots. You need JavaScript enabled to view it.)
EXPERIMENT - the model appears to be made from Charles Davis plan of the sloop of that name that was famous for going to China in the late 1700`s. I don`t think she is the same Experiment to which you refer, however, I could be mistaken. Davis` own model to these plans is in the Mystic Seaport Museum. I am acquainted with her in conjunction with my own research into the vessel CHALEUR, 1763-68. Very nice site/craftsmanship.
Kind regards, Randy Biddle, Windship Studios, Buford, GA USA
l'Etoile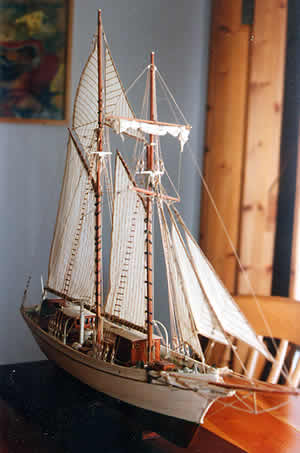 The model was built to 1:50 using French plans** and also using two sets of fittings from "Billing Boats" which are to a very high standard. Completed in 1996. Pictures soon after cleaning of the model which was not cased.
L'Etoile is one of twins - the other half being the "Belle Poule" The design is based on the very sturdy French fishing boat design of about 1900 - those which fished for many weeks at a time off Iceland. This ship was built in 1932. The were the pinnacle of comfort in their day also having a low horsepower donkey engine to help ride out the winter storms. The two sailing ships are part of the French sail training fleet and regularly appear at Tall Ships events throughout Europe mainly, but sometimes further afield.
**From L'Association des Amis des Musées del la Marine, Paris, Phone 727 9651 153664. The Plans used were those for ++Model No.35 and consisted of 2 sheets. French is helpful but they will speak to you in English too.)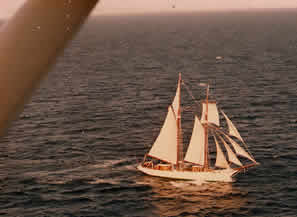 Below L'Etoile is pictured about 20 nm South of Cork Harbour. The photo was taken at very low level from a C150 just above the stall using a Canon T70 with 50mm lens and a wing-strut in the way. It was on the eve of the fleet's arrival Cutty Sark Cork Tall Ships Event in 1991 and l'Etoile is heading South West for the Fastnet before return to Cork. The photo was taken by Conor  Russell or Carroll O'Donoghue - that argument still continues! Sheesh - 50' above the waves, stall warning shreiking its ominous message and two "adults" arguing about the best shot/angle

Next report - Completion of Den Ary