"Hebridean Princess"
Photographed here at Kinsale in the Summer of 2002 the Hebridean Princess is a small ship. At 2,112 tonnes she typifies the type of ship being used for cruising by Hebridean Island Cruises - small and compact , low passenger numbers - 49 here and a high crew ration with 38 crew. More a large private yacht than a cruise ship, really - offering cuisine is to the very highest standard, spectacular scenery, sedentary pace and a new port of call each evening.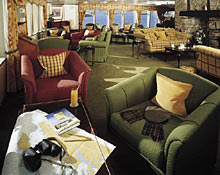 Because of her small size - 235' and a draft of 10' - the ship can visit places that would be impossible to her bigger relation - the liner. Her itinerary is very unique and the ports visited, like Kinsale, are a little off the beaten track and that is what makes the difference. Generally she plies around Scottish and Irish ports of interest and places of spectacular scenery at a stately 12 knots allowing the passeng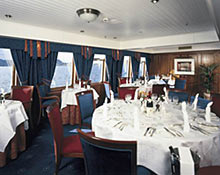 er to take in the passing seascapes and shores.

The ship has 30 cabins available which range from medium to good in size. However, a stately home atmosphere prevails throughout. Promenade space is limited, but there is quite a bit of open space available over 3 decks.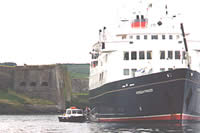 Built in 1964 for passenger service in the most threatening waters about Scotland (by Calmac when the ship was known as the "Columba") she then passed into the hands of the current owners who refurbished her for the very individual style of local water's cruising in 1989. Typically, this ship cruises by day, laying at anchor in sheltered harbours by night as in this case here in Kinsale.
Planned visits to Irish Ports at time of writing for 2003 where Bantry Bay and Garnish Island on June 28, Cape Clear on September 06, Inishmore @ Inismaan on June 29, Killybegs on June 30, Kinsale on June 27 and Rathlin Island on July 01. For more information contact Hebridean Island Cruises at http://www.hebridean.co.uk/